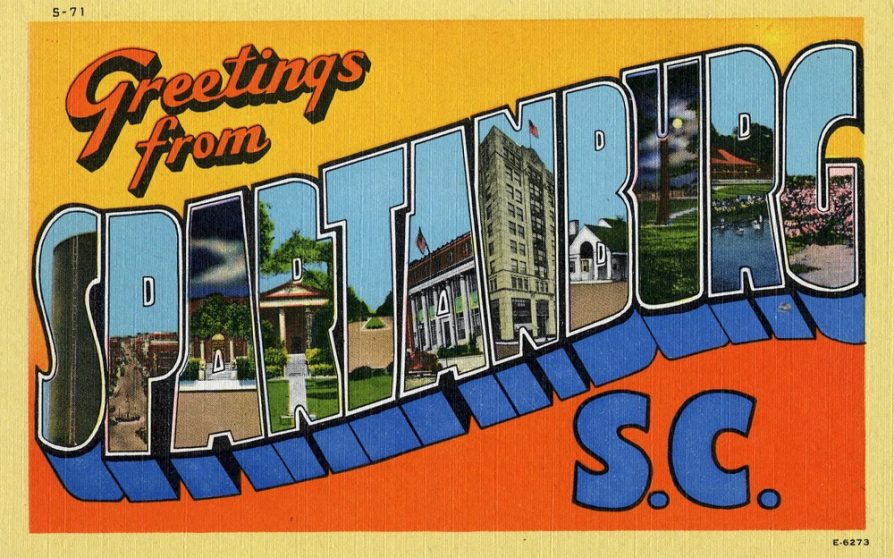 Project Description
Wofford College and the wider Spartanburg community are collaborating to develop plans for racial reparations solutions that are both community-grounded and research-informed. The initial phase of our community-campus partnership involves extensive information-gathering, focused on historic and ongoing harms against descendants of enslaved laborers in Spartanburg, South Carolina. These losses include centuries of enslavement, Reconstruction's campaigns of displacement, destruction of neighborhoods and historical sites during urban renewal and continuing today, systemic barriers to wealth-building, and systemic and structural racism in Spartanburg citizens' everyday lived experiences.
As much as we'd like for it to be otherwise, "research" is not a neutral term; it carries vestiges of hierarchy in the roles of researcher and objects of research, and it contains histories of epistemic injustice where one group is assigned the role of knower while another group may be denied their status as knowers. Our community partner has been instrumental helping us think through ethical research approaches. So far, we have settled on a twofold approach. First, we are acknowledging the labor of Black knowledge-producers in our community who have already unburied local histories and archived stories from individual community members. We are identifying, citing, and prioritizing research previously conducted by local Black archivists, historians, neighborhoods, and campus documenters. For example, our reparations recommendations can cite as historical context the testimony from Black witnesses in Spartanburg who came before a Federal Commission in 1871 to testify against KKK terrorism and barriers to democratic participation, wealth-building, and security in their own homes.
The second aspect of our research approach prioritizes listening to the experiences of neighborhood groups directly. One neighborhood group working in consultation with our Community Fellow has been particularly inspiring. They developed their own process for creating a restorative vision for their neighborhood, which had been largely demolished during Urban Renewal. In this model, the knowledge-creation toward community rebuilding was entirely community-driven. For the purpose of our Crafting Democratic Futures project, we will be able to cite aspects of their publicly accessible documents in our eventual reparations recommendations and connect that local narrative with national historical narratives. Not only is it their research, which is so important, but in citing it we recognize, rather than deny, its status as knowledge. Our understanding of community knowledge-creation and co-creation of knowledge is still evolving, but it has already made room for community-facilitated, grassroots conversations about reparations.
Insofar as we will be co-creating a community-engaged set of reparations recommendations, we (community members including campus folks) will be analyzing community histories and individual narratives to assess repeated patterns in residents' accounts of what has been lost. Our definition of "what has been lost" includes the losses that Black communities in Spartanburg have experienced as a result of centuries enslavement and systemic disenfranchisement. However, our definition of losses also includes the loss of a fuller and more complete historical acknowledgment of how indebted Spartanburg is to its Black citizens, who, in addition to investing labor and ingenuity in the building of our City, have led the way in advocating for justice and democracy (and who frequently saw backlash for this leadership).
The term reparations is defined in various ways. How do you define community-based reparations? Over the next three years, what strategies are you implementing to accomplish this?
Our team has had many nuanced conversations about how to define community-based reparations, especially depending on the audience. At first, the fundamental grounding we seemed to return to was this: reparations is about "repair." And, repair cannot be simply an expedient matter of fixing a policy problem. It's not an anti-poverty program and it certainly cannot be charity. Reparations ideally would involve a collective, deep acknowledgement in our city of catastrophic loss—a gesture of ethical accountability for losses both incalculable and calculable.
Now when you ask us about community-based reparations, perhaps the answer would be more focused on "community-based" than on reparations. For us, the phrase community-based reparations does have a lot to do with accounting for as many Black residents' perspectives as possible—and in particular making efforts to not to exclude folks who do not already have some institutional power. And in case the description of our project above made it sound as though our team would be finished when we had enough information to create a reparations proposal—that's not the case! We are planning next steps in the project that will grow a supportive network for reparative solutions—from teach-ins to community digitization days, reading groups, personal narrative recording opportunities, racial healing circles, and educational toolkits for sharing with local schools and community organizations.
Different teams comprise different types of colleagues and partners (e.g., historians, artists, community leaders). Can you describe the composition of the Wofford Team? Moreover, who are the community partners engaged in this work? 
We have a wonderfully varied group, many of whom are already involved and many of whom will be involved this Spring and during the summer. There's our Community Fellow, who has experience in facilitating community self-advocacy around health and wellness; a professor of Black Girlhood Studies who cares deeply about collective action and personal narratives; the Director of Wofford's Center for Community-Based Learning who introduced racial healing circles in Spartanburg; a professor of Studio Art who is designing and creating a monument to a community that was partially razed during Urban Renewal; a neighborhood action group from that same community who has developed a model for community information-gathering and determining which priority causalities to address; a local leader of a redistricting action group; a newly-formed Spartanburg Heritage and Culture Committee; a professor who has teamed with a community member to write a history documenting the slow-destruction and co-optation of a Black neighborhood adjacent to Wofford College; and, professors who are part of the African/African American Studies program at Wofford.
What factors are important to know about your local history to better understand your project?
To give a summary of Spartanburg: the city was established on lands ceded to white colonialists by treaty with the Tsalaguwetiyi [Cherokee] that was finalized in 1755 (Royce, The Cherokee Nation); the terms of the treaty, which offered protections and for the Tsalaguwetiyi, were never honored by Governor Glen of South Carolina.
Though we are working to change the narrative of Spartanburg's history to make it more representative of Black residents' experience, you won't find mention of this history on our city's "Brief History" webpage (yet!). White families in Spartanburg thrived economically by enslaving and trading African-descended peoples; there are still dorms at Wofford named for Wofford presidents who enslaved Black laborers and who advocated for the institution of slavery and secession. During Reconstruction there were so many Ku Klux acts of terrorism—against hundreds of Black residents as well as some white supporters of Radical Reconstruction—that a federal investigative commission held a series of hearings at the Spartanburg Courthouse in 1871. Moreover, Spartanburg's Black residents have endured persistent public segregation, systematic dismantling of black neighborhoods and economic infrastructures, and many other obstructions to wellness and wealth-generation. The history of Black Spartanburg, however, is also history of resilience, bearing witness, resistance, commitment to democracy, and community leadership.