Professor of English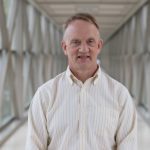 James Postema is a Professor of English at Concordia College in Moorhead, Minnesota.  A 1982 graduate of Calvin College, he received his M.A. in English in 1984 and Ph.D. in 1989 from the University of Illinois at Urbana-Champaign.  He has taught English at Concordia since then and is currently chair of the English Department there.  His specialty areas are American literature and Native American literature, along with literary theory and American cultural studies.  
In 1990 Postema developed a course in Native American Literature which was first taught in Spring 1991. This course focused on in-depth study of the cultures and literature of Anishinaabe and Dakota/Lakota tribal groups, two quite different cultures in our region.
Over the 30 years since then, the Native American Literatures course has added an integrative-learning component, working with a number of Native individuals and organizations in Fargo-Moorhead, especially Melody Staebner, Coordinator of the Indian Education Program for the Fargo Public Schools.
In the mid-1990s Postema managed the Native American Stereotype Awareness Project, coordinating efforts of over one hundred people involved in the Native-L online discussion group to compile lists of stereotyped images of Native peoples used in North American culture, and publicly request the discontinuation of some of those images.
In other areas related to justice and diversity, in 1994 Postema participated in a five-week social-justice educational trip to Guatemala, Nicaragua, and Chile with ten other Concordia faculty members, sponsored by a grant from the Knight Foundation; this grant also supported the study of Spanish for a year.
Postema served for six years (Jan 1997–July 2003) as Assistant and then Associate Dean for Faculty Development and Resources at Concordia, directing several areas of programming for faculty and overseeing physical, technological, and financial resources for faculty work.
As Associate Dean, Postema drew on his experiences from the Knight Grant trip to sponsor several week-long trips for groups of faculty and staff to visit the United States / Mexico border, in order to learn about issues there. Postema traveled with one of those groups to the McAllen / Reynosa area, then in 2018 helped recreate that experience for a group of Concordia students, serving as Faculty Advisor for a Justice Journey trip visiting the El Paso / Juarez area. He also served as a mentor for Prashansha Maharjan, a student from Nepal who received a campus research grant to visit El Paso / Juarez, writing a major long-form journalistic piece on the border and its issues.
Finally, Postema served for two years (2003-2005) as Co-Chair of Concordia's commissioned Anti-Racism Task Force (called "TOCAR: Teaching Our Campuses Against Racism"). Work on this task force capped several years of Anti-Racism training, much of it done through the Lutheran Human Relations Association and also the Crossroads Antiracism Organizing & Training program.