CEO, First Nations Consultants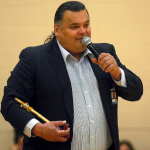 White, Niigonanakud, is Anishinabe from Whitefish Bay First Nations in Ontario, Canada. He is Pizhew or Lynx Clan and a lifetime member of the renowned drum group, the Whitefish Bay Singers. As a result of growing up on an isolated reservation, Ricky retained deep knowledge of the Anishinaabe language and culture and those teachings continue to guide his spirit and work today.
Over the last 22 years, Ricky has served as an Ojibwe Language and Culture Teacher, Assistant Principal, Principal, Executive Director of Education, and Superintendent of Schools. He was exposed to world class professional development, especially in the area of school improvement, school climate, and reaching students with whom our school systems struggle.
Ricky has shifted his professional career to generously sharing the blueprints of best practices for student success and working to help turnaround schools, programs and communities. He started a consulting company fittingly called "First Nations Consultants " and is now sharing his strategies all over Canada and the United States to inspire and unite his methods and messages for enhancing education.
Ricky's accomplishments go far beyond schools and classrooms. He was recognized as the next leader of the Anishinabe Nation of Treaty #3 (1989), Minnesota Indian Education Teacher of the Year (2001), Minnesota Indian Education Administrator of the Year (2013), and is now a sought after emcee for pow- wows, gatherings, conferences, keynote addresses, radio, television, and other public speaking engagements.